With the recent standoff at the Galwan valley, you may be worried if the situation will escalate or would there be a disengagement? Also, would there be a boycott of Chinese products and services in India? In order to answer these questions, we need to understand the dependence between the two economies and look at the historical as well as the future perspective. In this background, let us look at India vs China : Economic comparison & dependence.
India vs China : Economic comparison & dependence
Let us start by comparing the size of the economy and well being of people. To check this out we look at four major parameters – GDP, GDP growth, GDP per capita, HDI & Gini coefficient.
GDP of India & China
If we look at the estimated Gross Domestic Product (GDP) numbers for 2020 of the two countries, China is almost 5 times in nominal terms. (Note : Nominal GDP does not take account of the cost of living in a particular country). If one compares on the basis of purchasing power parity (GDP PPP), China stands almost twice the size of Indian economy.
| | | |
| --- | --- | --- |
| GDP ($ trillion) – CY 2020 | India | China |
| Nominal terms | 3.2 | 29.5 |
| Purchasing Power Parity | 11.3 | 20.9 |
GDP growth rate
In terms of growth, India has overtaken China since 2014. With a young demography, robust demand and recent income support measures for rural segments, India seems poised to grow faster than the Chinese counterpart.
A fall in crude prices further presents a scenario for controlled inflationary growth.
China on the other side has got involved with a trade war with US and waning economic stimuli while getting involved in multiple issues in South China sea, Taiwan etc.
If India continues to grow at rate of 8%, while China grows at 6%, economy of India & China will become equivalent in 2053. If India pushes its growth rate to 9%, the same will happen in 2043.
Human Development Index
HDI which can be considered as a measure of well being of the residents of these countries falls in the favor of China. HDI scores range from 0 to 1.
Low HDI – 0 to 0.5
Medium HDI – 0.5 to 0.8
High HDI – 0.8 to 1
India has a HDI score of 0.647 while China has a score of 0.758. Both the nations fall in the medium HDI category.

Gini Coefficient
Gini index gives you a simple indication about the inequality in terms of income or wealth of individuals in a country. Gini index ranges from 0 to 100.
0 – perfect equality
100 – perfect inequality
India currently fairs better than China as per the Gini Coefficient.
Bilateral Trade between India & China
China is the India's largest trading partner in the world. As per the data for the 2017-18, the bilateral trade between the 2 countries is valued close to $90 bn. This amounts to around 3% of the GDP of India.
India has a trade deficit of more than $50 bn each year. This means what our exports are much lesser at $16.7 bn with respect to $70.3 bn of worth of material that we import.
If we look at the major categories of imports, following shall be the order in terms of value :-
Electronic equipment – Mobile, TV etc.
Machines, Engines & Pumps
Organic Chemicals
Fertilizers
Iron and Steel
Plastics
Gems & jewelry
Ships & boats
Medical equipment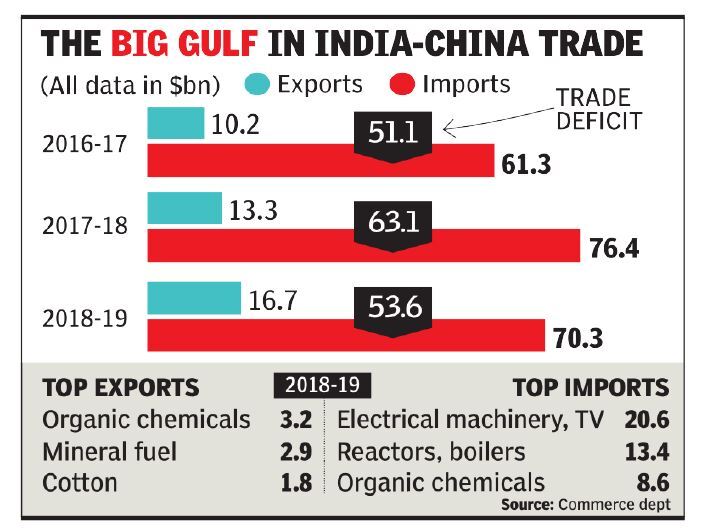 Similarly, if we look at the major exports, following are the key categories :-
Cotton
Gems & Jewelry
Copper
Ores, slag & ash
Organic Chemicals
Cement
The trade deficit between the two countries has already been a major irritant in the bilateral discourse. India wants China to open up the opportunities for Indian IT & Pharma sectors.
Road ahead for India – China economic dependence
If India wants to grow at above 8% GDP growth rate, it would be difficult to sustain on the basis of domestic consumption. In such a scenario, "Atma Nirbhar Bharat" if constructed on the lines of local preference, it would pan out less fruitful in the longer term.
India needs to be a part of global supply chain where China is a major player."Interdependence" along with "Self dependence" provides a much a better path. If "self dependence" is directed towards making and consuming on your own, then it should be noted that, this was already tried by Nehru and it proved to be an economic disaster.
China has moved itself towards exporting high value items like cell phones, manufacturing equipment's, high tech products & services etc.
At the same time, the "Make in India" a good initiative did kick off but somewhere slowed down with less than desirable results.
Maintaining & developing the bilateral relations is a must in the current globalized world. Thus, boycotting Chinese apps etc. would only mean that you would procure these product or services from other nations, may be at a higher value. This would again reflect back upon the trade deficit. Attempting a military adventure on the other hand might result in a much bigger humiliation than in 1962.
If India solves for its high cost of land, labor & capital, while avoiding military risk and improves its trades relation with diplomatic relations, we tend to gain the most in the longer term. Reviving quickly from COVID-19 pandemic and attracting investments may pose a much better prospect.
Sign up for our financial investments newsletter here –
Email address:
Visit here to know the 10 tips to deal with financial stress & job loss due to Covid 19.
In case you are planning to invest in stocks you may check our section on stock market here. To know about new age investments like P2P lending visit read details on our P2P lending blog section.
To know more about the economy and investment options like equity, mutual funds, debt – check our post on "How to start investing"and "A Wealth Snapshot of India"
Stay tuned for further updates.
To keep updated with our investment stories, follow us on social media here – Facebook | LinkedIn | Twitter | Instagram |
Also feel free to write us at [email protected]